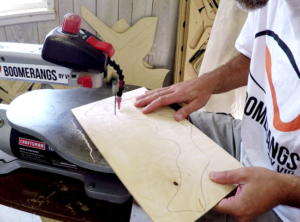 Since 2008, Vic has been providing exceptional boomerangs to his customers. With his great attention to detail and expertise, he personally creates all his products. He also tests each boomerang to ensure optimum flight, precision, and strength. Rest assured he knows what it takes to make high-quality boomerangs that give his customers a truly fun experience.
Vic is a reputable boomerang designer in the industry and is recognized for his ingenious designs. At first glance, customers think his boomerangs would not fly back because of his unconventional designs. Contrary to people's first impressions, Vic can seamlessly combine function and creativity into his products.
A word from Vic – Hello boomerang fans. I am Victor Poulin. I grew up in the beautiful state of NH and have lived here all my life. I threw my first boomerang at the age of 10. It was a plastic 2 winged boomerang made by Whamm-o. I had a lot of fun with it for a short time until my dad took it away because I wasn't using it safely.
I didn't throw again until I was 38. My wife asked me what I wanted for my birthday and I suggested a boomerang. Not knowing anything about them, she sent me online to find myself one. I ordered one from a reputable company and when it arrived my wife had a good laugh, as the gift message read, "To the best husband in the world".
After just a few throws I was hooked and threw it many more times, determined to figure out what was making it return. Once I did, I started to build my own. I posted a few videos on YouTube and my new hobby turned into a business.
I love the sport and hope to make others as happy as I was when I had my first successful throw and catch!